Saturday 9th June 2018
This was the first in what was intended to be a five-day backpacking expedition along The Ridgeway National Trail.
From the start of the trail at Overton Hill, I follow The Ridgeway for twenty-three miles as far as White Horse Hill, from which I would descend to reach my campsite for the night.
My day began with the early morning drive to Swindon. I was about ten minutes late in leaving home and managed to find my pre-arranged parking space through an air of great fortune, in my reluctance to use any form of SatNav. I was pleased to have found this and thought it was a bargain, at £18 for five days, while only a short walk from the train and bus stations.
My plan was to get the 07:05 bus to Avebury… I don't think I parked up until 07:10. I found my way to the bus station (which has terrible reviews online) and joined the dozens of other miserable-looking people, waiting. Except, my bladder wasn't feeling as patient and I was desperate to go…
Both the male and female toilets were locked. I contemplated sitting on it until the 08:00 bus would arrive but, I've made that mistake in the past! I crossed to the train station, only to find nothing but queues of people inside. Diverting to the town centre (I had time, I told myself), I marched on in search of a vacant loo.
Did I mention, I was carrying an 18kg rucksack through all of this?
Information boards and maps appeared to be in limited supply. One man on his bike stopped to offer me his McDonalds breakfast, which I politely decline. Maybe he thought I was homeless? Like the pair of men who would ultimately accept his offer. I asked him if he knew of a public toilet I could use. His only suggestion: McDonalds.
Could I find the place? Not easily. I marched up and down the streets, feeling that urge continue to grow. I tried following a map in to the toilets symbol beside the Brunel Centre… But, I didn't find anything but shops inside. After contemplating peeing in a less-visible place, I did happen upon McDonalds and the elusive facilities upstairs! I think it was already 07:50 by this time, with my bus soon to depart… It took a good five-minutes to empty my bladder. Just before I returned to the station, I passed the No.49 bus, on its way!
My next bus wasn't due to depart until 09:05. I would wait it out, I decided; sat on my 65lt rucksack, head in hands like one of the locals. Two hours later than planned, I was on my way to Avebury! It was only £3 for my ticket and, thank goodness, they accepted a contactless payment.
I almost left the bus one stop early, in following a man destined for 'Avebury' who had actually made a request stop. But the driver didn't wait for me, glaring at me from the rear-view mirror; knowing that I was in fact destined for the stop beside the Red Lion pub.
From here, two-hours later, I ignored all suggested routes and plotted my own path, parallel to the southbound road; heading towards the A4 but walking beside rows of standing stones.
I stuck to the A4, briefly, ahead of turning off towards East Kennett and then chancing along a footpath that would lead me straight to The Sanctuary. Crossing the A4 one final time from here, I would reach Overton Hill and the official start of The Ridgeway! What's more, where most guides suggest a three-mile walk from Avebury; I'd completed the journey in only two!
There's nothing much to commemorate this western terminus of the route, other than a written reminder that you still have eighty-seven miles to travel before reaching the other end. Depending on the age of this sign (and others along the trail), I may've once known the man who made it.
This is it. Thirty-miles of dry chalk and a rutted byway that is frequently used by bikes and motor vehicles, outside of the winter months. I'd been pre-warned of the need for decent footwear and something to stimulate the mind.
Following a very gradual ascent, I reckon I'd walked about two-miles, half the distance to Hackpen Hill, when the pain kicked down the outside of my left leg. It was running from my hip down to the outside of my knee. Not unlike the IT Band syndrome my right leg suffered with last summer.
Was it the 18kg of bulk on my back? Had I not packed my rucksack evenly? Was it riding too low on my hips? All of these questions and more would plague my mind for the twenty-odd miles to follow.
Occasionally, the views were appealing. Looking beyond the trail, it was a hazy but dry day. But for the cloud cover, it could've been unbearably hot. I had that much to feel grateful for.
Also, it looked likely as though I would avoid the cattle. That's something you don't want, when carrying lots of weight while enduring physical pain: attention of any kind!
I was determined to reach the familiar heights of Hackpen Hill – the four-mile mark – before pausing to perform any stretching.
Ten-minutes after stretching, the pain would return. Up ahead, I could see the hillfort of Barbury Castle. With thoughts of soft ground beneath my feet, I decided to press on.
A road passes nearby and, from which, someone had carelessly decided to leave their rubbish at the head of a track near Uffcott Down. Why? Why do people see this as a solution?
I passed a couple of cyclists on the way up and over Barbury Castle. It was so green.
A welcome respite from the chalk track. I couldn't give a stuff about any White Horses at this point; I needed to rest. To be honest, I needed more than the single flapjack I had rationed for my morning. By this time, it was getting close to midday.
After a good ten minutes, I would have to push on; knowing the first village wouldn't be too far away, with the potential offering of a water tap, if the Harvey's map was to be believed…
I almost missed this blatant sign, as I began following a byway downhill in the wrong direction.
This would lead me along Smeathe's Ridge; a known spot among other bloggers for a timely wild camp (camp sites along the western section of The Ridgeway are incredibly rare). Over the fence on my right, Open Access Land. For some reason, my waterproof camera was showing condensation on this inside.
I was slightly dubious of the green-signed path diversion that had been put in place here, while someone had also broken off the finger that would formerly point the way up the hill. But, this did appear to follow the detail on my map.
I was glad to be walking downhill, although that would ultimately mean another ascent lay somewhere ahead. With the pain still running down my left leg, I was having to work harder on any uphill gradient.
Soon, I did reach Ogbourne St. George. Although the trail skirts south along fly-ridden, wooded tracks towards Southend, where I took the photo above. I passed a group of female DofE students along with their superior.
According to the Harvey's map, there should be a water tap across the road here and outside of one of the houses opposite. But, as I had read elsewhere in advance, it was nowhere to be seen [it may exist behind the gates of Elm Tree Cottage, where permission must first be sought]. I've also read that a tap may still be available at the former Foxlynch camp site. I'm certain I've seen reference to another tap in the church yard as well.
It wasn't that I was low on water; packed with a good 2lt. But the refreshment would've been welcome.
Continuing eastward: there looks to have once been a railway bridge in use here, with a cycle track just behind me.
Having travelled downhill to get this far, I would have to climb back up this shaded gravel track. Each step was an effort. Nine-miles in to the trail (eleven miles from Avebury) and I felt defeated. I knew in my mind that I wouldn't be finishing the trail this week.
From the higher ground, I was exposed to the heat of the day. While the sun wasn't quite burning through, I decided it would be wise to apply protective cream. I passed a trio of runners, moving effortlessly with minimal weight on their shoulders. Ahead of them, another backpacker was attending to the sores of his feet. I could only plod on.
I wasn't enjoying this: that's the one point I'd like to make very clear.
I hadn't expected to enjoy following an ankle-bruising track over any distance. Earlier in the day, my emotions had begun to transform from the fear of leaving everything behind to the excitement and freedom of continuing this walk the next day and then the one after that; raising the middle-finger to a society that demands we work for an unfair proportion of our lives in jobs we my hate, while having to pay "tax" on every inflated purchase that may follow.
This was my chance to experience living and yet, I couldn't help but to focus on the pain down my left leg. Would I even be able to reach the camp site before dark?
It was close to 15:00 now. I hadn't stopped for lunch, with the intent of reaching the next hill (albeit, an optional ascent). I found this fallen tree to be inviting and perched for what would become a good half hour. This was just west of Shipley Bottom.
I stretched every muscle. I sat down and rested. I consumed two of my breakfast bars, followed by a good dosage of water. Looking on to Liddington Hill and it's optional detour of an ascent, I was struggling. Suffering. My mind began to entertain the idea of heading home that very evening.
While I waited, a stream of other walkers would pass by. I would later catch up with a few of them who'd reveal that they were taking part in the Ridge Walk challenge… A charity event that sees people walking fifty-two miles in twenty-four hours!! Of course, their daypacks were tiny, compared to my own Gargantua.
I didn't give a second's thought to the Liddington Castle detour. I had joined the crowd of charity event walkers, who were said to be expecting a meal at the halfway point (apparently, there are only four checkpoints along the entire walk).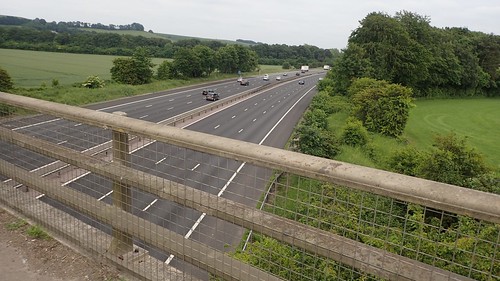 We would join the road towards Bishopstone, before crossing over the M4 motorway. So much tarmac. Murder on the feet. I felt like stopping again but, with so many people around me now, I felt uncomfortable with the idea of drawing attention to myself.
If I'd come this far, I could make it to the camp site.
A little over five-miles and I'd be descending towards my camp site for the night. Another climb along a dry, stoney track came next.
A memorial had been left beside the car park, here. I hope this person didn't die from leg pain while carrying far too much weight behind them.
Just for the record: I had attempted to re-balance my rucksack, evening shifting weight over to the right-hand side, in the hope of easing the pain down my left side.
One man and his dog were taking part in the fifty-two miler.
Two hours from here, I would be pitched up and lazing in a field with no weight on my hips or shoulders… I might even be eating dinner.
Before that though, I knew there was a strong possibility that I'd find a tap (only available during the summer months) beside Idstone Barn at the top of Idstone Hill. This thought alone, kept me going.
I searched around the farm yard before realising that the tap was clearly signposted further on. What joy! With all of the daypack-wearing fifty-two milers trekking on without stopping (how, I don't know…), I had the tap to myself.
Pack off! Bottles out! It was time to refuel and refresh. I probably drank a good 1.5lt while also using my new water filter bottle, just to be on the safe side. I was also able to refill my water bladder and added an electrolyte tablet to my 700ml bottle (the one without a filter).
This final section of The Ridgeway was familiar, as we came here on a group walk in September or October time.
I made the optional stop at Wayland's Smithy; an impressive and historic site, like several others that adorn the National Trail.
It was past 18:00 by now and I had hoped to have this space to myself. I'd even thought about cooking my dinner up here; ready to collapse in to my tent upon arrival at the camp site.
But, other people were about, including a noisy kid and more people were arriving as the first lot motioned to leave.
I sat for a good five-minutes, eating my final rationed snack for the day, before moving on.
White Horse Hill was barely a mile away. One last effort and I'd be done with all climbing for the day.
I had no interest in detouring to the trig point. Been there. Bagged it last year. I just wanted to get downhill and to get this pack off.
I do wonder how the Ridge Walk participants fared, especially as it would go on to rain in the evening. Through social media, I've been able to see that people enjoyed the experience. I even recognised a couple of faces.
Leaving The Ridgeway, the teapot led the way to Britchcombe Farm campsite.
It was about 19:15 by the time I arrived. To think, all going according to plan, I could've been there two hours earlier… But I met the owner straight away and paid the tariff, having pre-booked my stay, as requested.
He was quite encouraging for me to get up and continue my walk the next day, in the belief that 'it might not be as bad in the morning'. After an evening of limping around the camp site though, I had my doubts and turned to the support of social media; to share and to seek advice.
Even now, I do not regret my decision to come home the next day. No amount of stretching was going to account for the weight in my pack and there was the continued risk that I would not enjoy day two any more than the first day of suffering.
I'd decided to walk The Ridgeway for the experience, the adventure and the freedom. Not to suffer. This was not a pilgrimage. Ivinghoe Beacon holds no significance for me. I'm still disappointed that I wasn't able to finish the trail as intended but I made the right choice and my thanks go to Jo for picking me up the next day and returning me to my car. Someone who's experienced the pains and trials of backpacking, several times.
I will return to complete this walk. My plan now is to walk the final four days over two weekends; staying at a Youth Hostel on one Saturday night and then camping during the next outing. This should allow me to walk with a smaller pack, carrying less kit and, consequently, less weight.
I still intend to walk another long-distance trail over a number of days (possibly the South Downs Way) but before that, I need to look again at the kit I intend to carry and perhaps even look at investing in a lightweight rucksack.
Avebury to White Horse Hill: 25 miles
I managed to walk one-quarter of The Ridgeway in a single day. Arguably, the 'least enjoyable' section as well… That is an achievement I can hold on to.
Thanks for reading.